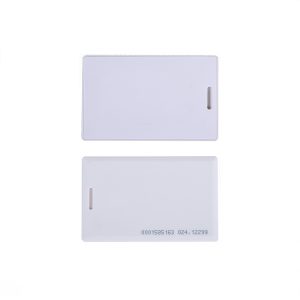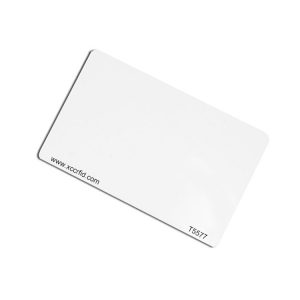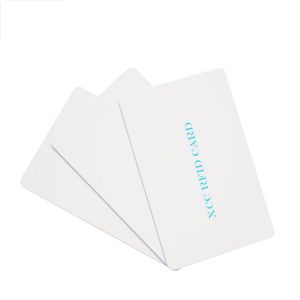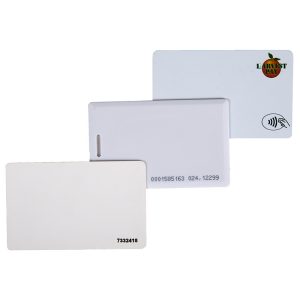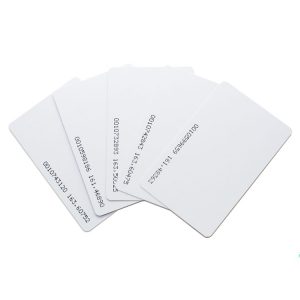 Product Information:
Material

Fresh PVC

Size

Cr80 85*54mm or customized

Thickness

0.76mm-0.86mm or customized

Frequency

125khz / 13.56Mhz/ 860-960Mhz

chip

LF:TK4100, EM4200, EM4305, T5577, Hitag
HF: NTAG213 / 215 / 216/FM11R08/NXP Ultralight/ s50/ ICODE
UHF:AlienH3 serias, Monza serias, Ucode EPC G2 serias

Protocol

ISO7815/ ISO14443A/B/ ISO 15693/ ISO 18000-6B/6C

Memory

1K Bytes/512 bit/4k Bytes

Printing

4 color offset CMYK Printing/Pantone color printing/Silk screen printing/ Digital printing

Craft

Glossy/Matt/Frosted

Others artwork

a.Glitter gold/silver background
b.Loco 300oe/600oe magstripe , Hico 2750oe/4000oe magstripe
c.Signature Panel
d.UV spot logo
e.thermal/DOD/Inkjet printing serial/UID numbers
f.thermal/DOD/Inkjet printing EAN13/128/39 barcode
g.Laser engraving serial/UID number (brown/grey)
h.Embossing serial number(gold/silver)
i.Signature Panel
j.Encoding and Encryption

Atenna Material

Cooper wire

Sample

Available

Lead time

7-10 Work days

Application

Access Control, Time attendance, Hotel key card, transportation, Library and Campus, Parking lot system, Consuming system,
Identity, Access Control, Inventory and Logistics Supply Management, Item Identification, Traceability, Transportation ect

Certification

SGS/ROHS/CE/ISO/CE RED
ID card classification:
The specification of the ISO standard ID card is: 85.6x54x0.80±0.04mm (height/width/thickness). There are also some thick, thin or special-shaped cards on the market.
ID thick card: thickness>0.9mm, the size of standard card
Standard card: 85.6x54x0.80±0.04mm size, can be offset printing, silk screen printing, printing photos, etc.;
Special-shaped cards: different sizes, sizes, shapes, etc., can be offset printing, screen printing, printing photos, etc.;
ID card features:
The carrier frequency is 125KHz (THRC12) or 13.56MHz (THRC13); the modulation method of the card transmitting data to the card reader is load amplitude modulation; the data encoding in the card adopts the BPSK phase shift keying method with strong anti-interference ability; the card to the reader The data transfer rate is 3.9kbps (THRC12) or 6.62kbps (THRC13); the data storage uses EEPROM, and the data storage time is more than 10 years; the data storage capacity is 64 bits, including the manufacturer, issuer and user code; the card number is before sealing the card It cannot be changed after writing, and the uniqueness and security of the card number are absolutely guaranteed;
ID card application:
ID cards are generally used as user identification for access control or parking systems in weak current systems. Because they do not require a built-in power supply, they are contactless and have a long lifespan during use, so they are widely used in weak current systems. The emergence of ID cards basically eliminated the early magnetic cards or contact IC cards. However, since the ID card cannot write user data, its record content is limited to the card number and can only be written by the chip factory at a time. Developers can only read the card number and use it. It is impossible to formulate a new number management system according to the actual needs of the system. At the same time, since there is no content in the ID card, the card holder's authority and system function operation must be completely dependent on the support of the computer network platform database. In addition, the basic consensus in the industry is that ID cards are not suitable for all-in-one cards, nor are they suitable for consumer systems. The biggest reason why ID cards cannot be used for consumption is the "credit" issue. Since the ID card has no key security authentication mechanism and cannot write to the card, all consumption data and amounts can only be stored in the computer database, and the computer is managed by personnel, there is a room for cheating in principle and mechanism. In addition, , In case of loss of consumption data due to computer problems, there will be catastrophic consequences. Therefore, it is impossible for consumers to recognize the authority (ie credit) of the ID card managed by the community. Too many financial disputes can only make the ID card consumption system unusable.