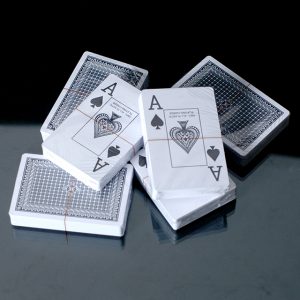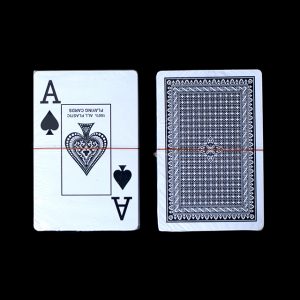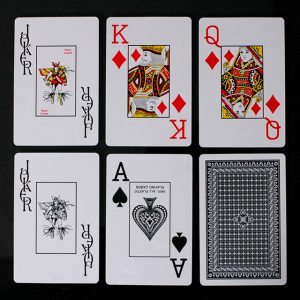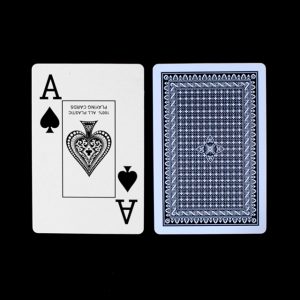 Specifications:
Name:
POKER SIZE PLASTIC PLAYING CARD  [Custom Design Accepted]
Brand:
OEM
Material:
100% NEW PLASTIC
Size:
58*88 MM
Color:
4+4C printing / Full color
Surface:
Varnishing, gild,side gilding etc
Box:
Generally: 4+4C printed Paper Box; or Plastic, Wooden, Tin Box
Packaging:
Generally: 54,55 pcs/deck or more ,100 sets/ctn
Carton Size:
Random , or according to customer
Lead Time:
10-30 days (below 50K: 15-25 days, above 50K: 25-35 days)
Sample:
1. Ready samples: FREE and could be provided at anytime;
2. New made sample needs sample fee & about 1 week to produce
Payment:
30% T/T in advance, balance paid before shipping
Applications:
Advertisement, Promotion,  Funny Games, Casino playing cards, Children Game Cards, Educational cards, As Gift, etc
Equipments:
Germany Heidelberger CD 102 Printer,  Automatic poker printer,  Varnish coater,  Automatic poker cutter,  Glazing manchine,  Laminating manchine,  Automatic box gluing manchine, etc
Cooperated:
Fenta, Dico, Coca-cola, Play Boy, FC Barcelona ,etc
PROVIDE:
Size, Material, PCS in a set, Qty, Special Packing requests.
Playing card points:
The four colors are spade ♠ (spade, also known as sunflower fan), heart ♥ (also known as red peach), plum blossom ♣ (club, also known as grass flower), diamond ♦ (diamond, also known as brick or square piece, The Sichuan-Chongqing area is called "Ba Pian"). Spades and clubs are black, the other two are hearts and squares are red. There are thirteen cards in each suit, with numbers from one to ten, with English letters J, Q, and K. The number of cards from one to ten is represented by the number of suits and patterns, while J, Q, and K are represented by head cards.
There are many ways to say why these four patterns are used as the suits of playing cards.
There are two more concentrated statements:
One is that these four colors represent the four main industries of the society at that time. Among them, spades represent spears, symbolizing soldiers; plum blossoms represent clover flowers, symbolizing agriculture; squares represent bricks and tiles used by artisans; red peaches represent red hearts, symbolizing Priest.
The other is that these four colors are derived from the patterns of utensils used in ancient European divination. Spades represent olive leaves, symbolizing peace; plum blossoms are clover, which means luck; squares are in the shape of diamonds, symbolizing wealth; and hearts are red hearts. Type, symbolizing wisdom and love.
Common regulations:
At the poker table, there are some conventions. These regulations are often derived from the prevention of cheating.
Language restriction: In order to prevent collusion among players, playing poker in casinos usually only allows communication in English at the poker table. But with the development of the Internet, other languages ​​have slowly entered the chat environment.
When you get a hand, you can't ask anyone for their opinions, and you can't show it to others, that is, there can only be one player in a hand.
When the final draw is compared to the size of the card, if the opponent shows your card and you find that your card is better, you should show your card quickly. Deliberate procrastination or fake actions will be regarded as impolite and provocative actions.