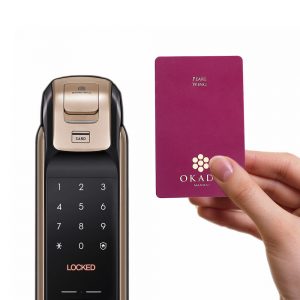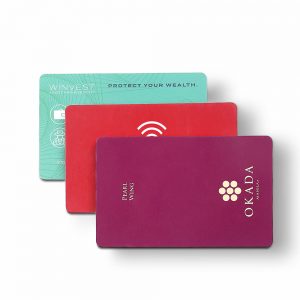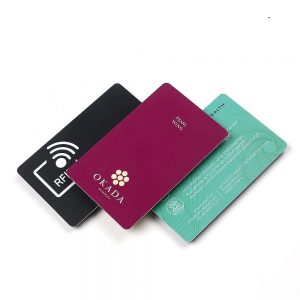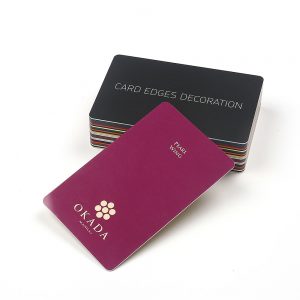 | | |
| --- | --- |
| Product name: | Plastic Card/access control card/rfid chip card/rfid access card |
| Material: | PVC, ABS, PP, PET, Transparent, Laser,Paper, Metal, wood etc |
| Size: | CR80(85.5*54*0.84mm; same as credit card), customized size, non standard size |
| Printing: | Offset printing, Digital printing, Silk screen printing, and Customized |
| Surface Effect: | Glossy/Matte/Frosted Finish |
| Frequency: | LF 125 Khz, HF 13.56mhz, UHF 860~960Mhz |
| Data retention: | 10 years |
| Operating life: | Can be read and encode more than 100,000 times |
| Operating Mode: |  Contactless |
| Crafts: | Gold/Silver sprinkle, UV bar-code, Embossing, Spot UV, Scratch offs, Signature panels… |
| Coding: | Laser, hot stamping, UV Embossing, series number, QR code, Bar code etc. |
| Application: | Corporations, Hotel, School, advertisement, Health care, Travel, Access Control & Security, Bank, Supermarket, Time Attendance,Parking and Payment, Club/SPA Membership Management etc. |
Radio Frequency Identification (RFID) is the abbreviation of Radio Frequency Identification.
The principle is to carry out non-contact data communication between the reader and the tag to achieve the purpose of identifying the target. RFID has a wide range of applications. Typical applications include animal chips, car chip anti-theft devices, access control, parking lot control, production line automation, and material management.
Overview:
Radio Frequency Identification (Radio Frequency Identification, RFID) is a type of automatic identification technology that uses wireless radio frequency to carry out non-contact two-way data communication, and uses radio frequency to read recording media (electronic tags or radio frequency cards). Write, so as to achieve the purpose of identifying goals and data exchange, it is considered to be one of the most promising information technologies in the 21st century.
Radio frequency identification technology uses radio wave non-contact rapid information exchange and storage technology, combines wireless communication with data access technology, and then connects to the database system to achieve non-contact two-way communication, thereby achieving the purpose of identification and used for data exchange. Connect an extremely complex system in series. In the identification system, the reading and writing and communication of electronic tags are realized through electromagnetic waves. According to the communication distance, it can be divided into near-field and far-field. For this reason, the data exchange mode between the read/write device and the electronic tag is correspondingly divided into load modulation and backscatter modulation.
working principle:
The basic working principle of RFID technology is not complicated: After the tag enters the reader, it receives the radio frequency signal from the reader, and uses the energy obtained by the induced current to send out the product information stored in the chip (Passive Tag, passive tag or passive tag). ), or the tag actively sends a signal of a certain frequency (Active Tag, active tag or active tag), the reader reads and decodes the information, and then sends it to the central information system for relevant data processing.
A complete RFID system is composed of a reader and an electronic tag, which is a so-called transponder and an application software system. Its working principle is that the reader emits radio wave energy of a specific frequency to The drive circuit sends out the internal data. At this time, the Reader receives and interprets the data in sequence and sends them to the application program for corresponding processing.
From the perspective of the communication and energy sensing methods between the RFID card reader and the electronic tag, it can be roughly divided into two types: inductive coupling and backscatter coupling. Generally, low-frequency RFID mostly adopts the first method, and high-frequency RFID mostly adopts the second method.
The reader can be a read or read/write device depending on the structure and technology used, and it is the information control and processing center of the RFID system. The reader usually consists of a coupling module, a transceiver module, a control module and an interface unit. The reader and the tag generally adopt a half-duplex communication mode for information exchange, and the reader provides energy and timing to the passive tag through coupling. In practical applications, management functions such as the collection, processing and remote transmission of object identification information can be further realized through Ethernet or WLAN.