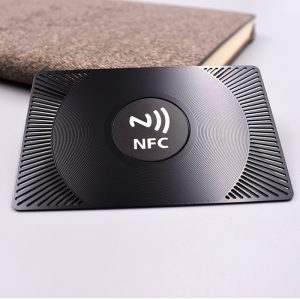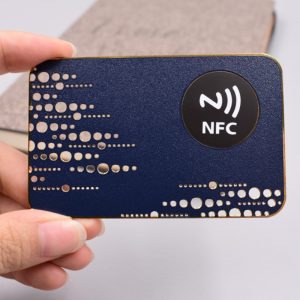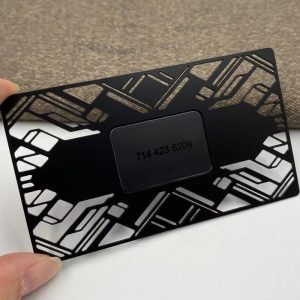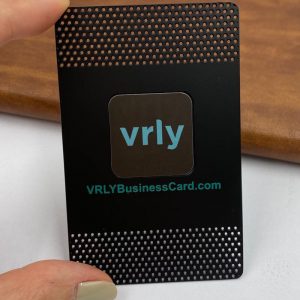 Product Description
Contactless ID IC Smart RFID Chip NFC Metal Business Card
●The NFC metal card can be programmed by NFC APP on mobile, the ULR or contact information can be saved in NFC chip, andcan be read automatically when touch with NFC mobile, intelligent and convenient.
●This NFC metal card can work with most new generation mobiles in Android or IOS
●Metal business card is made by stainless steel, with good touch texture.There are different colors can be electroplated or silk printed on metal card, black, gold, rose gold, copper, white, gray, green, brush, mirror, silver, red, pink, blue and others.
●There different processes to make a beautiful metal card, such as electroplated, silk print, cut out, engrave, laser etc.
| | |
| --- | --- |
| | |
| | 80*50/85*54/89*51mm/50mm or custom |
| | |
| | balck, gold, silver, copper, white, rose gold, blue, gray etc |
| NFC sticker | Frequency: 13.56mhz, size: 25mm, 30mm, 38mm etc |
| Read and write | program by NFC mobile with NFC APP, read by NFC mobile |
| | brush, matt, polished, frosted etc |
| | silk print, full color print |
| | engraved, cut out, signature, NFC chip, contacted chip, hico magnetic strip, serial number, embossed etc |
| Application | Public transportation, Access management, Club visiting, Souvenir insurance policy, Supermarket, Medical care, Bank, Parking, School, etc |
Smart Card: A general term for a plastic card (usually the size of a credit card) embedded with a microchip. Some smart cards contain a microelectronic chip, and the smart card requires data interaction through a reader. The smart card is equipped with CPU, RAM and I/O, which can process a large amount of data by itself without disturbing the work of the host CPU. The smart card can also filter wrong data to reduce the burden on the host CPU. It is suitable for occasions where the number of ports is large and the communication speed needs to be faster. The integrated circuit in the card includes the central processing unit CPU, programmable read-only memory EEPROM, random access memory RAM and the COS (Chip Operating System) in the card solidified in the read-only memory ROM. The data in the card is divided into external reading and internal processing parts.
Basic Information:
"Smart Card" is based on IC card technology, using computer and communication technology as means to connect the various facilities inside the smart building into an organic whole. The user can complete the usual key and fund settlement through an IC card. , Attendance and certain control operations, such as using IC card to open the door, IC card for dining, shopping, entertainment, conference, parking, patrol, office, charging services and other activities. There is no need to carry multiple heavy keys to open the door and go to various corresponding departments to pay for the complicated operations. The entire system can monitor, manage and make decisions for various departments as needed. Each partial system and terminal can automatically organize and summarize the collected information for system query, summary, statistics, management and decision-making. The IC card can communicate with each other, which not only satisfies the independence of the management of each function, but also ensures the consistency of the overall management. From different occasions, it can be divided into: campus smart card, community smart card, office building smart card, enterprise smart card, hotel smart card, smart building smart card, etc. According to the card type, it can be divided into: IC card (most widely used), ID card (in the process of phasing out), CPU card (development trend)